It's Valentine's Day. That's right- I'm acknowledging it because I want to! I want to celebrate it even if it's not a 'real holiday'.. I actually roll my eyes at the people that go on and on about how much they don't celebrate commercial holidays like Valentine's Day. It's a Hallmark Holiday, blah, blah, blah. I just find those people to be completely tiresome. No offense, of course. I also find the mushy, lame ass, cutesy people even more nauseating. I'm right in the middle.. I don't adore it but I don't hate it either.
I think Valentine's Day is a day to appreciate the people you love the most in your life. A sweet gesture, or thoughtful dinner, a cold six pack- whatever it is, it means that you cared enough about that someone to do something for them today. I'm down with that. I can be honest and admit that I would be disappointed if Rob completely ignored the fact that it was Valentine's Day. I can also admit that the only time I down play today, is when I'm stuck for a gift idea for him. So I'll be all like- "Nah, it's cool. We totally don't have to do anything for Valentine's Day"... because I have NO IDEA what to do for Rob. This year is a bit the same. I haven't quite figured out what I'm going to do for my man yet. It's okay, he's in school during the day and luckily I still have just over a month of maternity leave, so I'm home aaaaall day trying to think of something special.
Is it wrong to admit that I don't want to do much? I just want to throw out a sweet gesture that I love my husband and then be done with it? I always want Rob to be more romantic but really, I am the least romantic person there is. I have a hard time with feelings, as I'm sure I've mentioned before. I am so much like a guy sometimes I have to look between my legs to make sure I'm not one. Want some examples? Sure, why not!?
- I squirm at the idea of having to vocally express my love for
anyone
. I can write it or say it to someone else, but I can't say it
to
the person
- I am bad with emotions. If I start crying while watching a sad movie I'm always super embarrassed about it. I often lash out and say, "Don't look at me!" (So guys don't usually cry during movies but they aren't good at crying in front of people and neither am I!)
- I don't like to be consoled when I'm upset. My mom will attest to that one. Anytime something bad has happened in my life and I'm upset, my mom always waits and asks me first if she can hug me. I know! It's awful, but I just can't help it!
- I HATE shopping, as I've mentioned before. Rob will be trying on clothes and I'm sitting impatiently with all the guys, playing on our phones.
- I'm low maintenance. Rob seriously has to FORCE me to buy new shoes, to buy jeans (GAH- I hate trying on jeans!) I rarely get my hair done, never pluck my eyebrows (and I should), I've only had my nails professionally done once and that was for my wedding and I've never had a pedicure.
If all of that isn't proof enough that I'm like a guy, then the fact that I am writing a blog post about it on Valentine's Day- should be. How much LESS romantic could I be today!?
"Hey Rob, I wrote a Valentine's Day blog post today.. about how much I'm like a guy.. Sexy right?! Wanna do it?"
I digress!
To all of you Valentine's Day haters out there- suck it up for one day! You and I both know that you secretly want a little something something today because who doesn't like getting a present OR who doesn't like having someone care enough about them to tell them or show them with a sweet gesture? If you're still shaking your head no- you're a liar liar pants on fire.. That is all.
Everyone talks about how great the early days of a relationship are. I was lucky enough to have this very blog when I first met Rob. So here are a few from the "Early Days Collection".. enjoy:
-Swept-
(This is just a piece I wrote a few weeks after Rob and I started dating. It's about how much we get each other.. It's pretty sweet.)
-The Sparkle In My Eye-
(Again, this is the day that we officially started dating. So I'm pretty over the moon excited about Rob and I'm on a cloud, type, type, typing out my happiness...)
-Foot Touch-
(This is actually a recent post I wrote last month about how we met and how significant our home is to 'us' and the beginning.)
-Sing For Me-
(This post is my favourite. It's the very first time Rob was ever mentioned ever... and you can tell by my poetic writing that I'm in love.. I can even admit that it's pretty cute.)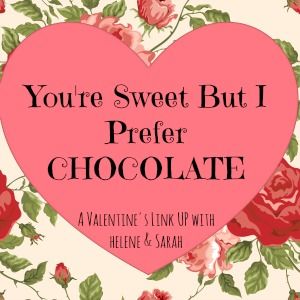 Are you a cynic, a mushy mush or meh-in the middle on Valentine's Day?!
What are you doing for your special someone today? I'm posting this at midnight, so any ideas would be greatly appreciated.. wink, wink!? (See, a total guy move right there!!)