The first picture of me ever posted on my blog. (With my dog Dixie, who now belongs to my sister!)
I've been blogging since 2005. But I haven't been a full time blogger for that entire time. I just started in June of 2013. It's been a little while and I have my few followers and it's not a ton in comparison to a lot of my fellow bloggers. But, I'm okay with that because I have the blogging friends I've made along the way that loyally comment every post. I am grateful for all of you, you make me feel special and you give me a purpose to keep writing.
I also have my Facebook followers and those consist of a lot of my family, close friends and acquaintances. Every time you mention that you read my blog, I may not say anything, but inside I am completely delighted that you read.. I love to hear that people enjoy what I am blabbing about. As a young lady that has always loved writing, this means so much to me.
I feel like I have enough blogging pals that I may be successful in this. I've decided to start a Link Up of my very own for the month of February. I'm a little nervous about doing it because it's like inviting a bunch of people to your birthday party and only a couple of people show up. I'm putting myself out there, fully knowing that it could completely bomb and fail miserably. BUT- no one ever got anywhere by fearing the what ifs.. so I'm not going to do that!
I've decided to host a very simple link up. Each Wednesday ( I was going to do Friday but I didn't want to compete with
Yoga Pants' #BackThatAzzUp
,
Venus' Fan Friday
or the popular
5 On Friday
) please continue to write whatever you wish to write about, but at the end of that post- mention one thing that your significant other does to make you crazy. Examples? Why, I thought you'd never ask! Rob leaves his dirty socks out every single evening. He takes them off, folds them like they're clean and either leaves them on the floor, in the couch cushions, on the coffee table and sometimes he'll toss them over by the hall as a reminder (that never works) to put them away. It makes me insane every time I see them only because I am the one that ends up putting them away. Whew! Rob's feelings won't be hurt, because I Still Love Him BUT ... this is just something that I needed to GET OUT. I feel much better. So, please set your reminders to join me this Wednesday and every one after that, if you would like- in my very first link up: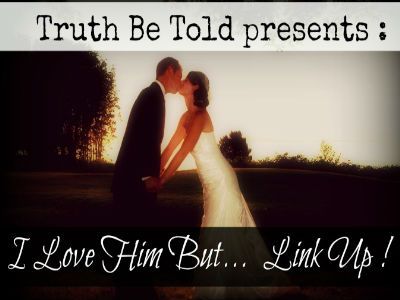 This is just a simple link up for fun, for all of you out there that have significant others that you sometimes want to suffocate when they're snoring. (See how much fun this is going to be!?) For those of you without significant others, feel free to link up anyways and vent about a friend, parent or sibling! Remember- it is just for fun, so try to keep it light!
Also, if any of my Facebook followers want to add their own 'vent' in the comments, that would be just fine. Air out some of that dirty laundry and make me feel better about my sock littering husband!!
Grab a button and join me this Wednesday, February 5th! I'll be sure to tweet out a reminder!